A Criminal Offence is an act punishable by Law.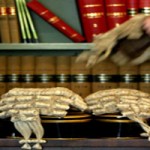 Legislation relating to the forfeiture of property arising out of the commission of criminal offences is complex and far reaching.
The potential consequences of a plea of guilty within NSW if property has been used in a criminal offence requires understanding of the legislation relating to the forfeiture of property.… Continue reading →
At Law a child is a person between the age of 10 and 18 years. All children between those ages are subject to the laws in NSW and may be charged with criminal offences and placed before a Court for determination.
In respect to Children, the jurisdiction is the Children's… Continue reading →